In France, many people with limited mobility are in need of assistive upper-limb technical aids in order to carry out simple everyday tasks. Robotic assistance solutions already exist to help them but they are too expensive and not sufficiently suited to individual needs. In order to help these people become more independent, ORTHOPUS is launching the design of adaptable and modular robotic solutions.
Not readily accessible aids
Over 30,000 people in France and approximately 225,000 people in Europe are touched by neuromuscular diseases. These diseases, which are often progressive, can cause damaged or lost mobility of the limbs and muscle weakness.
To compensate for this limitation of mobility, several types of assistive aids already exist for the upper limb:
Dynamic arm supports that help relieve the weight of the arm, shoulders and back
Assistive robotic arms which are controlled by the user while performing movements in his/her place
The world market for assistive upper-limb robotic aids is covered by only a small number of players. Furthermore, the prices the companies charge are excessive and their solutions are badly refunded by national health care systems. The most popular assistive robotic arm costs nearly 55,000 Euros, rendering it inaccessible for most.
The source of our project
Robotics forms part of ORTHOPUS' DNA because its founder David Gouaillier, and part of the R&D team, previously worked on NAO the humanoid robot.
When David and Pierre Freyssinet met in 2019, their encounter gave rise to the opportunity to put into motion a project to that end. Pierre, an investor in search of a company with a Social Economy approach, acquired a stake in ORTHOPUS' capital with a powerful project: providing his nephew, with an assistive robotic arm.
Aware of the problems related to the availability of robotic arms on the market, Pierre was already working on an Open Source project with a team of voluntary makers!
Building on existing resources, ORTHOPUS took over the project to further the development of this robotic arm with the aim to design a certified medical solution and to open up access to it.
The prototype: from the tests to the conclusions
The starting point of the project was the production of a prototype: an assistive robotic arm based on an Open Source robotic arm called Niryo One.
After several months of work in conjunction with Nicolas P, tester-user and keen technophile who is currently using an ORTHOPUS prototype. This prototype can be controlled via a smartphone using the joystick integrated into a wheelchair to perform everyday tasks.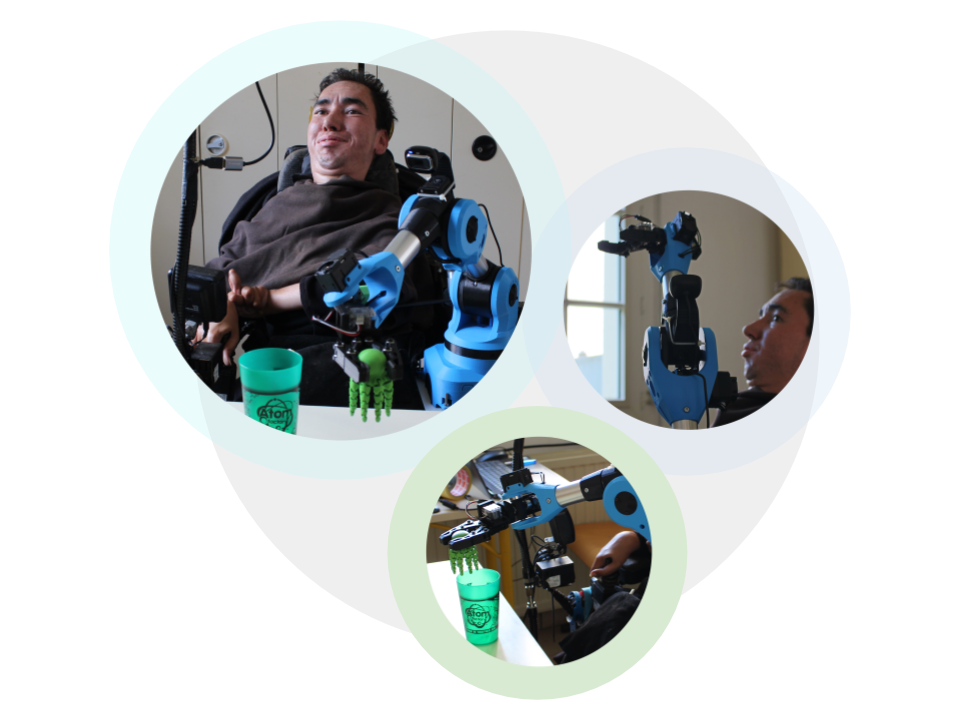 Following these first trials, we discovered that the Nyrio arm did not meet the user's needs in terms of power, size and safety and that further R&D was required. This observation gave birth to our ARMMS project.
In order to address the issue of accessibility and customisation (specific to each user) ORTHOPUS has developed a new solution: ARMMS (Architecture Robotique Modulaire pour la compensation du Membre Supérieur).
The innovative nature of our solution hinges on delivering a modular architecture based on various Open Source components which are adaptable and compatible with one another, as well as with market interfaces, thus making them easier to customise and reducing costs.
This architecture comprises the following:
– A range of servomotors comprising an electromagnetic motor, a speed reducer, an electronic board and a series of sensors which react to external stimulation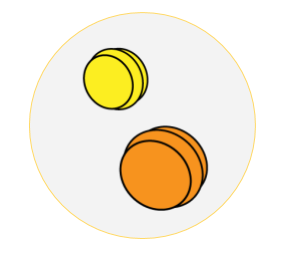 – A set of braces and tools that facilitate the interaction between the robotic aid and the user, by simply being adjusted to the patients' body shape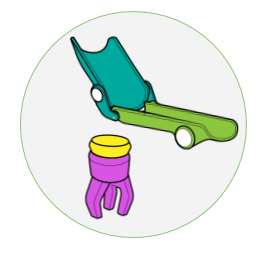 – A central unit that is at the core of the modular architecture. It enables electrical, software and mechanical compatibility with wheelchairs and various existing user control interfaces (joysticks, mouth control, smartphone apps…)
– Mechanical connections that provide lightness and sturdiness and make it possible to design new architectures with one or several servomotors
Starting with these various components, we are developing three standard equipment solutions with increasing mechatronic complexity. We start our range of solutions by producing a dynamic arm support equipped with one servomotor (AT1X). We will then develop a device with two servomotors (AT2X) in order to, ultimately, produce an assistive robotic arm comprising six servomotors (AT6X).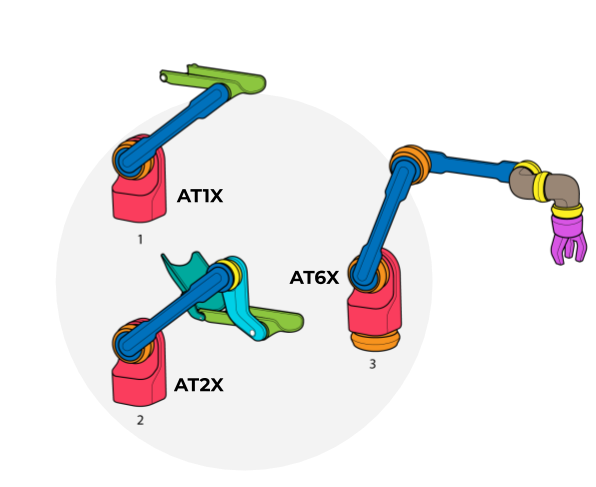 By offering a technology which is both accessible and scalable, our ambition is to create a range of affordable and modular solutions capable of becoming "standards"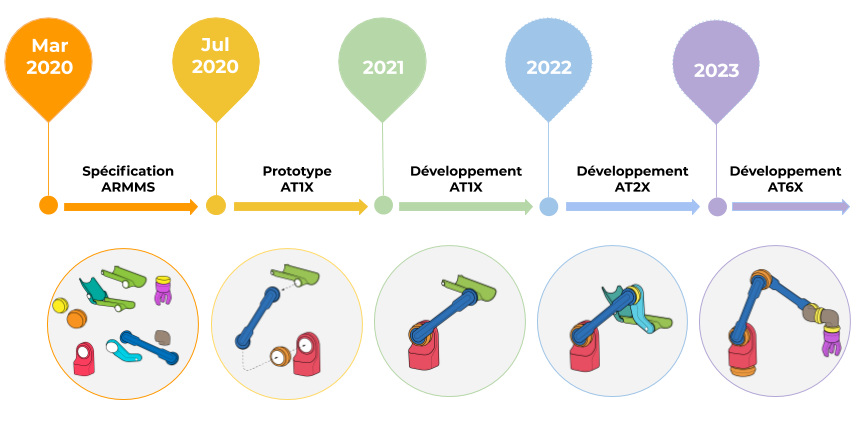 We have already started working on our first modular block: the Servomotor. Its development will last 12 months. We would like to, very quickly, offer our first dynamic arm support with a motorized axis (AT1X).
In order to successfully execute our projects, we are in partnership with AFM-Téléthon and ESEAN (Health facility dedicated to the follow-up and rehabilitation of children and teenagers based in Nantes), that will help us to better understand the needs of users in demand for this type of aid.
In addition to this valuable partnership, we are looking for partners to bring this project to fruition, particularly on the financial aspect. If you want to help ORTHOPUS and help support this challenge which focuses on health and solidarity, please contact us!