Today, too many amputees have limited access to prosthetics. However, there is no shortage of options, but they are often too expensive, and in particular for people living in developing countries. So, in order to improve the situation and help these people regain their social and professional integrity, ORTHOPUS designs prosthetic solutions with a new approach based on frugal innovation.
Too many amputees have no solution
Approximately 40 million people currently have an amputated limb worldwide. This figure is expected to double by 2050 mainly due to an ageing population and diabetes. 
According to the WHO, only 1 out of 10 people have access to prosthetic solutions. The reasons for this societal failure are explained in part by inefficient or non-existent health systems and in part by excessive pricing.
ORTHOPUS designs upper-limb solution
Worldwide, 85% of amputations are of lower limbs. The majority of Research and Development efforts focus on providing these people with equipment solutions. As a result, only a small number of organisations supply upper limb prosthetics. 
David Gouaillier – mindful of these needs – created ORTHOPUS, the aim of which is to develop prosthetic solutions targeting upper-limb amputees.
Prosthetics provide technical assistance to people who have lost a limb by accident or who were born without (agenesis).Upper limb prosthetics compensate for the absence of an arm or hand, or a part of.
There are different types and levels of amputations of the upper limb.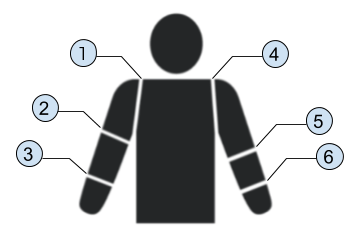 1.  Inter-scapulothoracic amputation
2. Transhumeral amputation (above the elbow)
3. Transradial amputation (below the elbow)
4. Disarticulation of the shoulder
5. Disarticulation of the elbow
6. Disarticulation of the hand or the wrist
An upper prosthetic limb comprises several parts:
The socket which fits onto the residual member (stump). This part is unique to each person and is critical in terms of comfort. It is made by a health professional: an ortho-prosthesist.
A wrist (articulated or not)
A prosthetic hand or a specific prosthetic device (tool)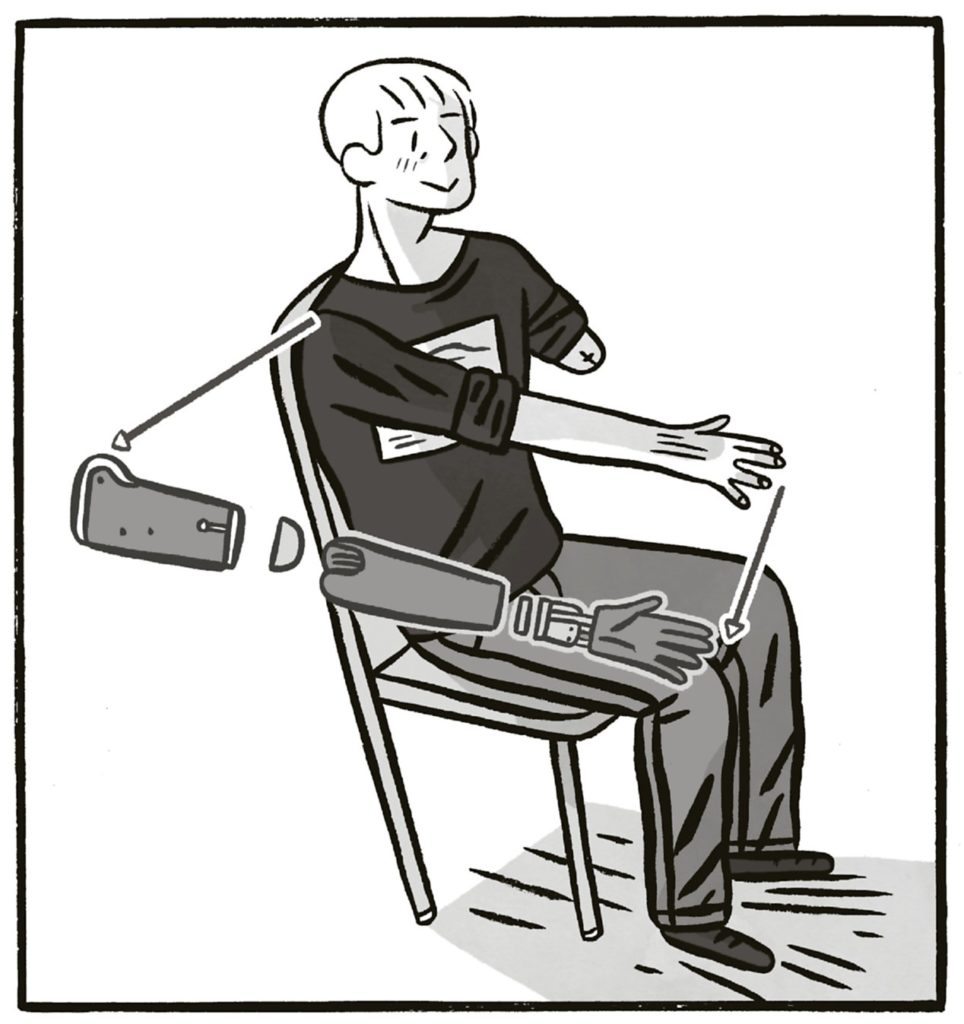 There are 3 different types of upper limb prosthetics:

Aesthetic prosthetics which visually reproduce an arm or a hand. They are also qualified as "passive" due to the fact they have little or no functional properties.
Mechanical prosthetics which help performing day-to-day activities as well as more specific actions in a work environment. Its movements are triggered by the body's movements.
Myoelectric (or robotic) prosthetics which are the most sophisticated as they comprise motors and electronic components. They are controlled by sensors which detect the user's muscular activity.
Mechanical and myoelectric prosthetics can be associated with an aesthetic sleeve, thus combining the functional and visual aspect.
Range of upper-limb solutions developed by ORTHOPUS
Our first range of solutions has been designed for transradial amputations and disarticulations of the wrist.
We are currently working on a mechanical wrist which will easily connect to any type of additional prosthetic device, such as an aesthetic, mechanical or robotic hand. The purpose of this wrist – which is compatible with products currently on the market – is to establish a universal standard in the sector.
In order to meet European requirements pertaining to medical devices (CE marking), our wrist is made from metal plates (steel and aluminium) which are laser cut before being assembled. 
The use of this technology is part of our frugal innovation approach because it is easy to reproduce and does not require expensive production tools. Our purpose is not to take part in a High-Tech innovation race by adding new features. Rather, we aim to make available sturdy, certified and reproducible prosthetics made from readily-available and low-cost materials and processes.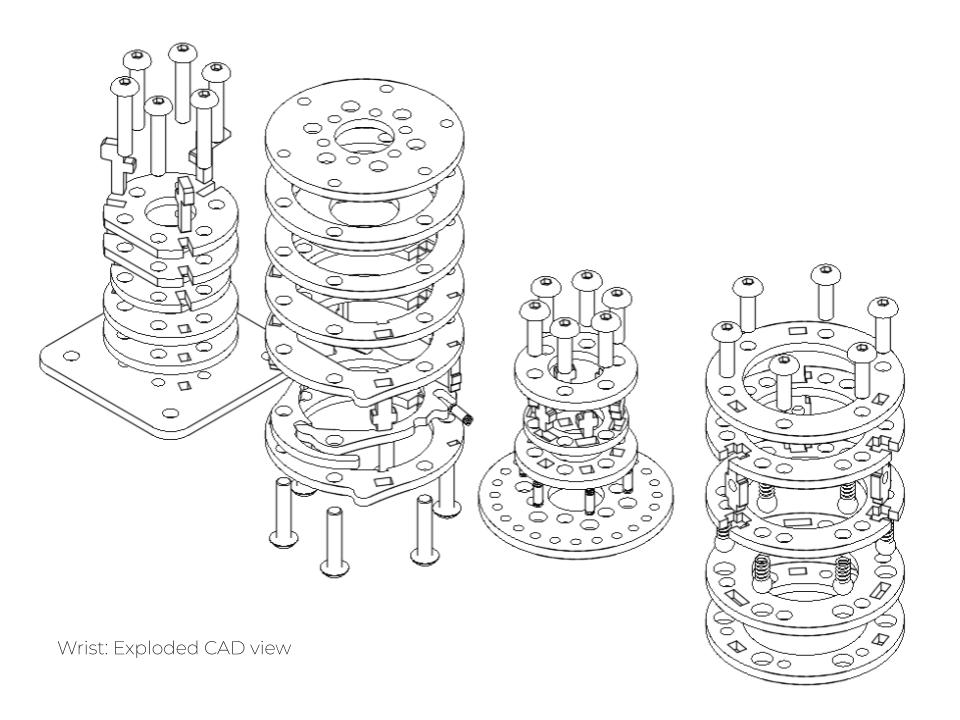 Our approach is to primarily target developing countries with a range of prosthetic products which meet both fair pricing and essential needs in order to foster: 
social re-integration thanks to aesthetic prosthetics
professional re-integration thanks to mechanical prosthetics 
day-to-day activities thanks to myoelectric prosthetics
ORTHOPUS R&D Roadmap (2020-2022)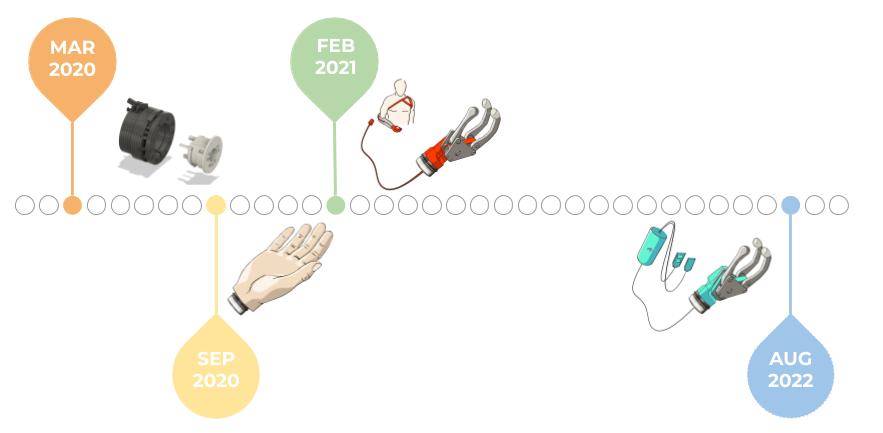 Circulating, sharing and marketing our first solutions
In order to widen the access to technical aids and increase the number of people fitted with assistive technologies worldwide, ORTHOPUS will share its certified solutions on an Open Source basis so as to facilitate their circulation all around the world.
To market our solutions, we have identified a local distributor in India with whom we hope to collaborate in 2020. We are also in contact with the NGO Handicap International so as to test our upper-limb prosthetic solutions in a country where the NGO is conducting a mission.
As of January 2020, ORTHOPUS will be leaving its R&D laboratory to take its projects to the next level: prototyping. Our universal wrist – core component of our upcoming range of solutions – will be the first to be tested, followed by the manufacturing of aesthetic, mechanical and myoelectric prosthetics. 
ORTHOPUS is set in motion to meet the challenge of an increasingly solidarity-based healthcare system and to defend fundamental human rights.