In our R&D lab, based in Nantes, we are taking up an unrivalled challenge : developing – on an open-source basis – an affordable, robust and performing myoelectric prosthetic hand.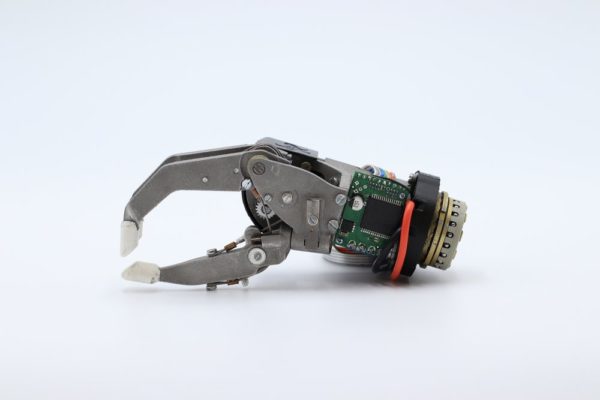 The beginnings of the myoelectric hand
In 2018, David Gouaillier, founder of ORTHOPUS, met My Human kit, a Rennes-based association, and participated in the development of a DIY robotic hand. This is when he discovered the problems people with disabilities face trying to access technical aids, on a global scale, in particular when it comes to upper limbs.
Currently, an amputee who wants a myoelectric prosthesis can choose between extremely sophisticated models, the price of which is close to a high-end car (up to 60,000€), or simpler models. These models are available from 3,000€ but once the equipment has been added (sensors, batteries, socket, etc.) their overall price can easily reach 10,000€.
People with smaller financial means must turn to prosthetics with no electronics such as passive prosthetics , or even live without a solution.
Faced with that reality, David Gouaillier started ORTHOPUS with the will to develop medical devices dedicated to mobility impairment, both accessible and at an affordable price.
An unrivalled innovating prosthetic
ORTHOPUS' myoelectric prosthetic hand is unique: it will be the first device of its kind to be developed by a cutting-edge company, at an affordable price and medically certified.
Our approach focuses on :
– functionality and performance :
the specificity of our myoelectric prosthetic hand lies in the fact its thumb has flexion and abduction mobility. This enables its user to seize objects with an opposite three finger grip or a side grip which covers 80 to 85% of a human's daily needs.
– sturdiness and reparability :
the design focuses on providing lasting strength. Furthermore, in order to enable users to take ownership of their prosthetic, to repair it or even to replicate it, all the relevant technical documentation shall be online and open source. 
– accessibility :
currently, our myoelectric prosthetic hand has a retail price of approximately 500$ .
– quality/security :
like all the other technical aids developed by ORTHOPUS, our myoelectric hand shall be medically certified via a CE marking.
The team working on its development
The development of the ORTHOPUS myoelectric hand is driven by Côme Butin, trained as mechatronic engineer with a specialisation in robotics.
He joined the crew in October 2019 and is currently undertaking a doctoral thesis with the Laboratoire des Sciences du Numérique de Nantes (LS2N), a French advanced research laboratory specialised in mechatronics.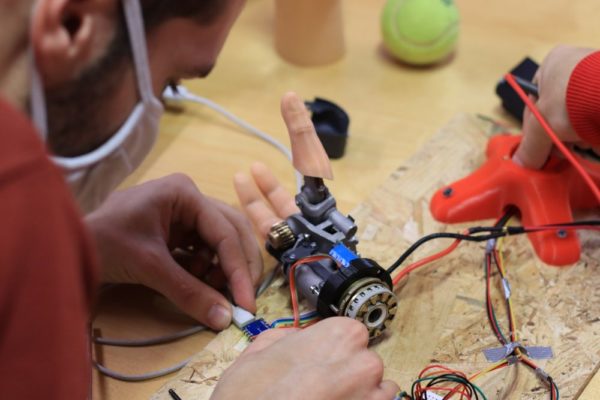 Côme is driven by the project's technical challenges but also by its social dimension: "designing solutions that serve the user if fulfilling, we can see tangible results".
Other crew members, as well as intern-sailors, also contribute on a regular basis to precise aspects of the development, such as the proposal revolving around new kinetics for the hand (how it moves) or the dimensioning of mechanical components.
In addition, regarding the design of myoelectric sensors, we work together with Kickmaker, a consulting agency specialised in the industrialisation of high-tech products.
The next stages in 2021 : a clinical trial and a myoelectric wrist
On 17 December 2020, a user tried our prototype to prepare a coffee, hold a mobile phone, open a door….. Verdict ? The hand's overall architecture, the way it operates with its opposable thumb, has been validated.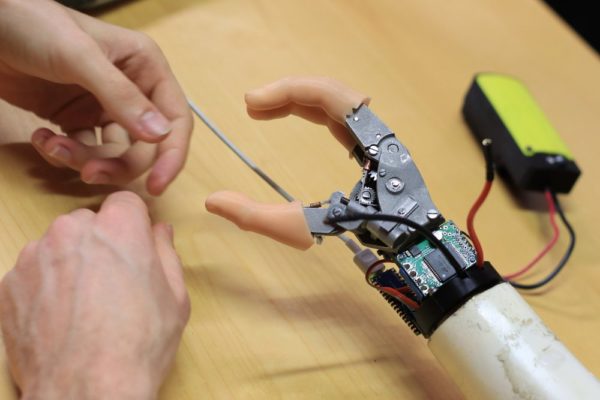 The next stage for the prototype is to undergo a larger-scale test through a trial with a group of user-patients. The prosthesis' functionality and comfort of use will be put to the test: how easy it is to hold objects of various weights and sizes.
At the same time, we are designing a mechanical wrist with a connection. There is a double objective: enabling the rotation of the wrist as well as the compatibility of ORTHOPUS solutions on the same socket.
En parallèle, nous travaillons à la conception d'un poignet mécanique avec connection myoélectrique. L'objectif est double : permettre la rotation du poignet et une compatibilité des solutions ORTHOPUS sur une même emboiture.
You want to follow the progress of our myoelectric prosthetic hand? Subscribe to our newsletter. We share our progress every 2 to 3 months.