For several months, we have been preparing a clinical trial for our set of upper-limb mechanical prostheses . Thanks to the collaboration with Humanity & Inclusion, 14 Nepalese patients will test 3 ORTHOPUS prosthetic solutions for 4 weeks. Why have we chosen to set up this trial? How will we evaluate the results? A look at the organisation of a clinical trial.
The clinical trial is testing 3 prosthetic solutions that we named the "Nepal Kit" :
– an articulated cosmetic hand, a discreet prosthesis that allows to hide the disability and grip small and light objects,
– a work hook, a solid and functional tool that makes intense manual work possible,
– an universal wrist that allows a quick change between the cosmetic hand and the hook.

These three solutions are complementary and cover a large number of uses. They are mechanical prostheses, they work with the body's own energy, without requiring a battery.

The aim of the clinical trial is to observe and verify how our prosthetic kit improves the daily well-being of users.

In many developing countries, 85% of amputees do not have access to the technical aids they need. The three prostheses tested in this clinical trial respond to this problem by combining simplicity, quality and affordability. 
These solutions are the first that ORTHOPUS will be offering for sale from May 2021.
But why Nepal? This is the question that is often asked about this clinical trial.

It all started 2 years ago, when we met Humanity & Inclusion to present the ORTHOPUS project. They were just starting a rehabilitation programme in Nepal and put us in touch with their local team, in particular Yeti Raj Niraula. Senior Prosthetist and Orthotist based in Kathmandu, Yeti is the  principal investigator of the clinical trial: he found the practitioners willing to participate in the project and supervised the selection of patients. His experience and feedback from the field were invaluable in designing the Nepal kit.
3 ortho-prosthetists in 3 different rehabilitation centres in the country are link with Yeti : Ram Bahadur Thapa from the National Disabled Fund in Kathmandu, Ambika Sharma from the Community Based Rehabilitation Biratnager in Morang, and Krishna Raj Bhatta from the Nepal National Social Welfare Association in Mahendranagar. These key partners are in direct contact with patients and are of great help in the organisation of the clinical trial. They selected the participants and will equip them.

Nepal is a country where there are important needs in terms of technical aids for people with disabilities. The Living Conditions among People with Disability in Nepal report (SINTEF, 2015) highlights that 83% of people with disabilities do not have access to rehabilitation services and that there is a deficit of 72.5% in assistive devices.
As in many low-income countries, the solutions offered to amputees are :  
a mechanical voluntary opening hand, a compromise between efficiency and aesthetics according to the publication Efficiency of voluntary opening hand and hook prosthetic devices: 24 years of development?
a passive cosmetic hand with no grip functionality, concealing the loss of the limb.
These solutions are not ideal because they do not allow for heavy work to be done. 
We therefore propose this kit to optimally cover the needs of users, thanks to the complementarity of three solutions. With the work hook, it is possible to carry out work and use many objects of daily life. The cosmetic hand hides the disability and offers the possibility to grip light objects. Compatible with these two solutions and other future tools, the universal wrist allows the user to quickly adapt his prosthesis to his activity.
Our objective : improve the users' quality of life
Our hypothesis is that our solution set improves the quality of life of the users through a social and professional reintegration. The clinical trial aims to test this hypothesis by evaluating how these 3 prosthetic solutions increase the autonomy and well-being of users.
14 patients were selected from the 3 rehabilitation centres across the country. They were aged between 20 and 50, had been unilaterally amputated (transradial or wrist disarticulation) for at least one year and were accustomed to using a prosthesis. This criterion is important because using a prosthesis requires time to learn and adapt: a clinical trial on unaccustomed patients would distort the results.
They will be equipped for a period of 4 weeks. Their feedback will be collected via four questionnaires:
The "OPUS Upper Extremity Functional Status" for the benefits of prostheses in performing daily tasks. Each activity is rated on a scale of ease / difficulty  
The "WHO QOL – BREF quality of life assessment" for the quality of life. This questionnaire is filled in at the beginning and at the end of the clinical  trial  in order to be able to make a comparison and determine improvements as accurately as possible.
A questionnaire following the recommendations of the  Standardization and Harmonization of Socio-Demographic Variables (2016, GESIS Survey Guidelines) for socio-demographic data (age, education level, family status, etc.).
A final questionnaire designed by ORTHOPUS on the perception of the prostheses, their opinions and feedback on aesthetics, functionality and sensations. 
At the end of the four weeks, each participant will keep their kit of three prostheses.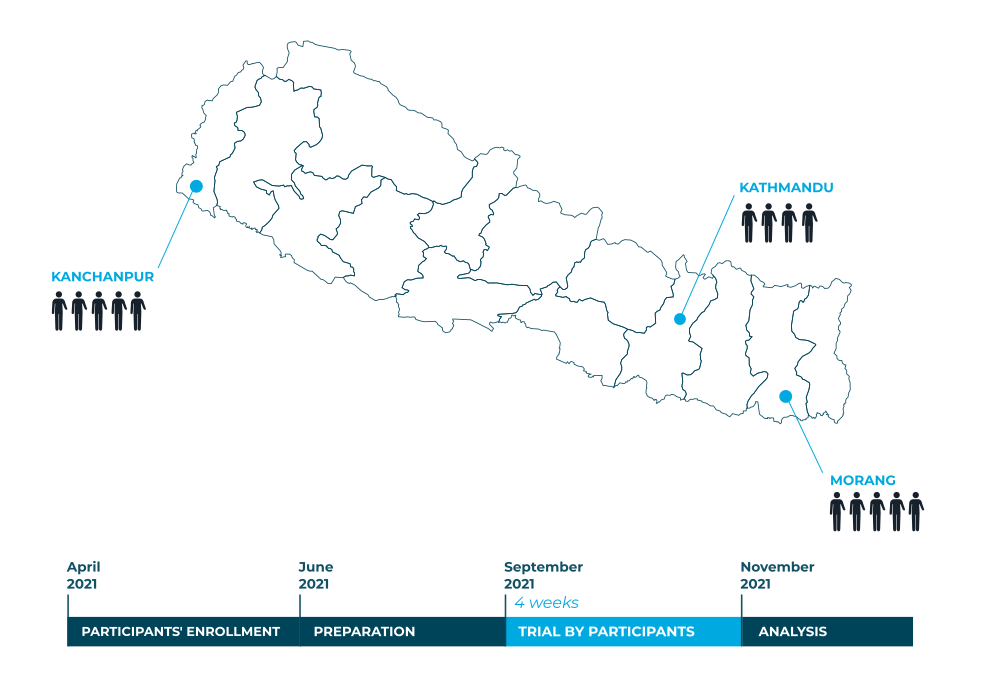 An obstacle course for quality solutions 
Organising a clinical trial for a small company like ORTHOPUS is an obstacle course. It is a complex process that requires a lot of time, money and specific skills (most companies hire specialised service providers). Approximately for this clinical trial in Nepal, we estimate the total working time at 9 months and the complete budget at 25 000€.

However, a clinical trial is not necessary to certify a Class I medical solution: a self-declaration of conformity and documentation available in case of control are sufficient. We have chosen to make this effort as part of a quality approach in line with our objective: to offer technical aids that are fairly priced, effective and reliable. This is why we want to verify the relevance and the use of our mechanical prostheses in the field and to gather feedback from users.
After an unbearable suspense…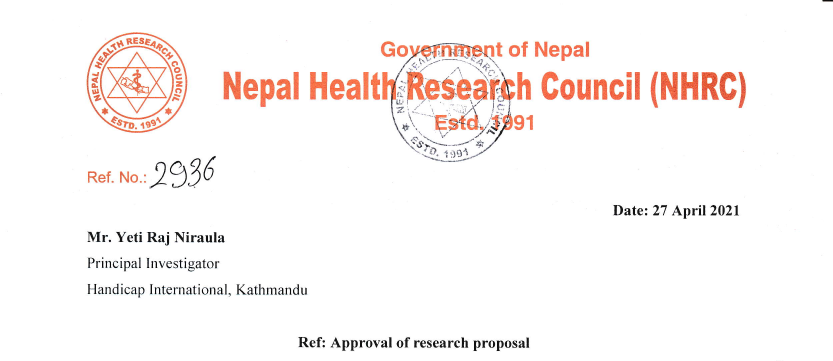 On May 4th we finally received the official validation from the Nepalese authorities for the clinical trial!

The preparation phase can now begin until September when the patients will be equipped for 4 weeks. Then, part of the ORTHOPUS team will travel to Nepal for the evaluation phase and document this experience in images. 

The data from the various forms will be analysed to write a scientific report that we will disseminate through our networks.

See you in autumn 2021 to follow these steps with us!